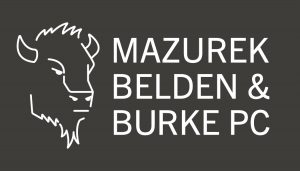 Mazurek, Belden & Burke, PC
As a small business owner, you face with more challenges than the average human has the capacity to deal with.  These day-to-day challenges affect not only the well-being of your business but can also have significant implications for your personal and family life as well, especially when they come in the form of legal issues.  Because of that, you need to have a trusted attorney available at all times.  However, hiring an attorney to keep on staff is prohibitively expensive, particularly since legal issues don't come up every day.  This is where Mazurek, Belden & Burke, P.C. ("MBB") can help.  MBB can act as your trusted counsel without being a constant payroll expense.
From helping you choose and form the right business entity for your specific needs to planning for your retirement – and everything in between – our team is here for you every step of the way.  If you are thinking about starting a new business, have legal questions affecting your business, or just want to make sure your business is doing what it can to avoid potential legal headaches, please give us a call.
Cliff Wheeler, Attorney at Law